Book a consultation
When you're shipping serious volumes ($300K+ p.a) you need a serious partner.
To continue on your growth path you need a partner that will work with you to provide streamlined shipping solutions, advice and competitive shipping options.
With Smart Send we provide custom shipping solutions for growing enterprises. We sit down with you and have a detailed discussion around your goals, shipping strategies, current issues and more.
Some of our solutions include:
API integration
Real time shipping quotes internally for your staff or externally to customers via a webstore, ecommerce marketplace, etc
Seamless fulfillment of orders
Tracking of shipments integrated into your system
PDF shipping labels generated on the fly as orders are fulfilled
Pre-built apps/plugins available for ecommerce carts to simplify setup and getting started
We can suggest website platforms to use that are best for your ecommerce scenario and even help with transition or development of webstores based on your requirements
Delivery services
Over 50 domestic services from seven major Australian couriers
10+ International Express export services
We provide advice on the best courier to use for your particular circumstances based on our 40+ years experience in transport
Range of B2B, B2C and C2C services
We are experts in home deliveries
Tail-gate or 2 man deliveries for heavy/bulky goods
'Out for delivery' SMS/emails sent to receivers free of charge on all domestic shipments
Customer Service
If issues arise with a delivery, you will have access to a dedicated customer service representative via phone, email and other digital means as per your preferences
All our customer service staff are from the transport industry and we get answers quicker than our competitors due to extensive knowledge and industry contacts at the courier companies
Proactive Customer Support (PCS)
The big stress point for ecommerce stores when shipping is wasted time monitoring and following up late delivery of their shipments to customers
The main causes of late deliveries are:
Damaged goods
Misdirected shipments
Failed deliveries
Customer not home and redelivery notification issues
Return to sender scenarios
These issues can lead to unhappy, disgruntled customers, bad social reviews and drain on your time chasing up the issue.
Smart Send's Proactive Customer Support solution does away with this problem:
Our Smart AI monitors each of your shipments and if the delivery timeframe is beyond the normal transit time our system automatically goes to work lodging a query with the carrier.
We notify you via email to advise the course of action.
We then continually follow up with the carrier until resolution and keep you in the loop with regular updates via our ticketing process.
This saves your business time and effort and allows you to spend time on other sales generating activities to help you grow and scale.
Shipping for the Digital Age
The future of shipping requires merchants to understand their costs through usable Analytics and Data.
Whether you're trying to figure out Flat Rate shipping costs or Free Shipping, knowing your true shipping costs is imperative to ensure a profitable business.
Shiplytics enables merchants to understand many different aspects of their shipping, searchable and filtered by: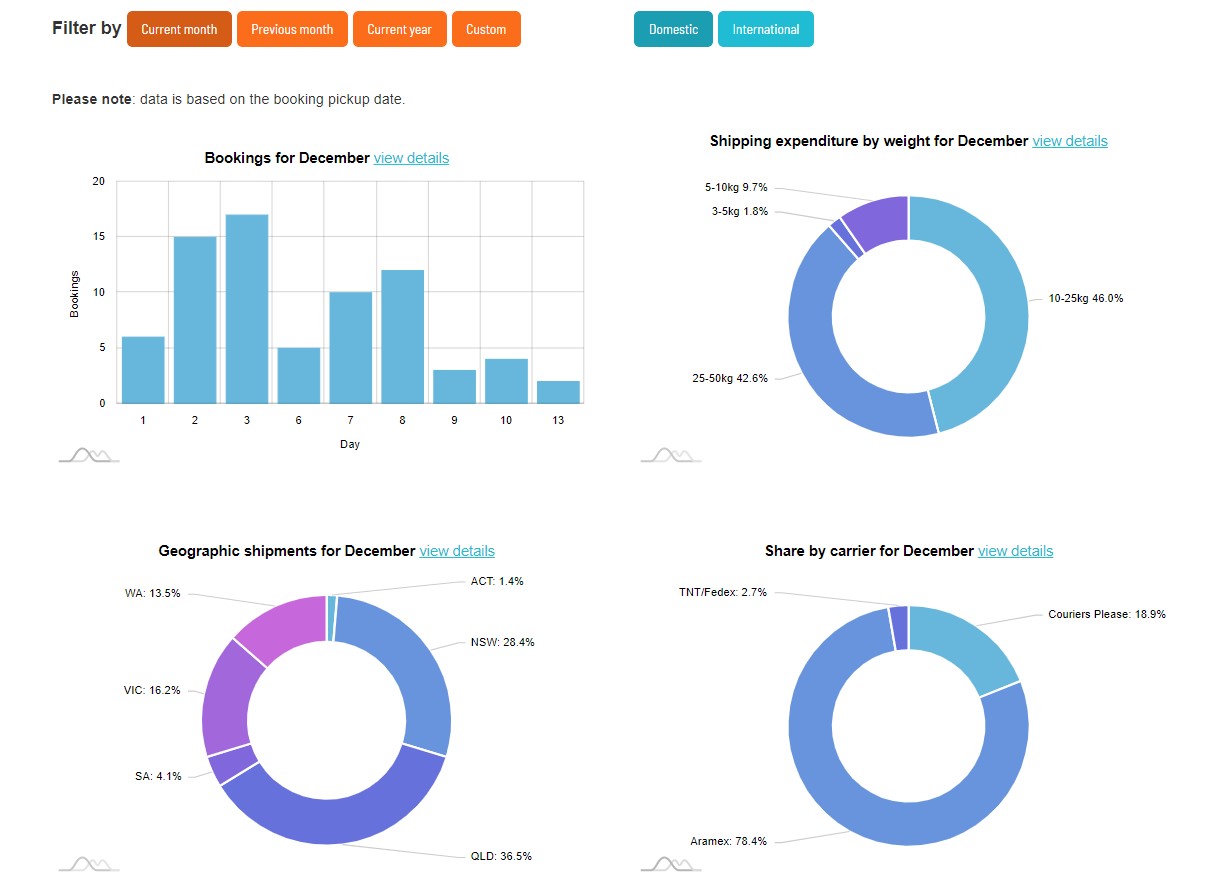 Always available
When we partner with your enterprise, we don't just set you up and say goodbye. We're always on call and are a true partner.
After go live we have monthly 'Operations' meetings with your team to digest each month's shipments, carrier performance, improvements to make, etc.
We can also suggest other partners to consider like 3PL providers, technology platforms, business solution providers, etc to further enhance our offering.
Dedicated pricing
From our first meeting with you, we obtain historical shipping data for your business and then go about obtaining the best pricing from carriers to ensure you receive the best possible shipping pricing through Smart Send.
We also strategise with you and can recommend which carrier/s may be best for your particular products, shipping strategy and brand (and we explain why). We don't solely focus on price, as from our experience this isn't a smart way to improve your shipping processes and brand. We focus on 'value for money' and suggest carriers that will provide the best possible outcome for you. Ultimately it's your decision on which carriers to use.
Set up an initial 20 minute obligation free consult meeting with our management team here